Easy Healthy Recipes for a Healthy, Busy Lifestyle
A collection of easy healthy recipes for the busy lifestyle. We all know we need to eat healthier, but it can be difficult with long work hours, busy schedules and busy lifestyles. These easy healthy recipes can make it easier for you to eat healthy on the go!
Recipes provided by The Peaceful Kitchen

http://www.thepeacefulkitchen.blogspot.com

Easy Healthy Sloppy Joe Recipe
Serves 4

1 package whole wheat buns or Ezekiel buns

1 c. cooked lentils
1 ½ c. cooked brown rice
¼ c. green onion

Process lentils and brown rice in a food processor until ground but still chunky. *Do NOT over process! Stir in green onion.

Sauce:

1 c. ketchup
¼ c. Bragg's apple cider vinegar
½ c. succanut
2 tsp. lemon juice
1 tsp. vegan Worcestershire sauce
1/8 tsp. allspice
Dash mustard powder
Dash celery salt
Dash pepper

Combine in a medium bowl and whisk until well mixed. Heat a medium skillet and add lentil mixture and sauce together, heat for 5 minutes or until mixture is warmed. Serve on whole wheat buns.

Serving Suggestions:

Be very careful when selecting whole wheat buns, most are not actually whole wheat and may contain high fructose corn syrup. I prefer to use Ezekiel buns, broil them in the oven until lightly toasted before using.

Delicious, Easy Steamed Veggies and Rice

This recipe make an excellent lunch or simple dinner on nights you want something lighter.
1 c. water
2 tsp. dark barley miso
2 Tb. nutritional yeast

Mix water, miso and nutritional yeast and warm in a skillet high heat. Bring to a boil.

1 c. chopped broccoli
1/2 c. chopped cauliflower
1/2 c. brussels sprouts
1/4 c. diced onion
1/3 c. fresh green beans
3 red potatoes chopped
2-3 servings cooked brown rice

Add vegetables to boiling miso broth, sautee until liquid is absorbed and vegetables are softened. Serve over brown rice.

Boutique Pasta Salad

This pasta salad has been a MAJOR hit at every party it has been served. It makes an amazing summer lunch or even dinner.

2 c. whole wheat or gluten free shell pasta cooked
2 c. red grapes halved
1/2 c. pineapple chopped
4 green onions chopped
2 c. diced apple
2 c. diced celery
1/2 c. cashew halves

Dressing:

1 c. Veganaise or other non-dairy mayonaise
3 Tb. Apple cider vinegar
1 Tb. maple syrup, honey or other sweetener
1 Tb. lemon juice

Mix dresing ingredients and pour over salad. Chill before serving. This salad is even better the second day.

Mexican Corn Salad & Chips

We have this salad for dinner on warm summer nights. It is AMAZING, filling and makes a great dish at dinner parties.

2 c. corn [non-gmo]
2 diced tomatoes
2 avocadoes cubed
1 15 oz. can black beans
1 Tb. italian seasoning
1 1/2 tsp. garlic powder
1 1/2 tsp. onion powder
1 tsp. sea salt

1 bag corn chips or tortilla chips [preferably baked]

Mix all ingredients, except corn chips in a large bowl. Serve over corn chips.

Easy Healthy Chocolate Peanut Butter Bars

Serves 10

1 c. whole wheat flour
1 c. oats
½ c. earth balance or sunflower oil
¾ c. succanut
1/3 c. applesauce
1/3 c. peanut butter
1 tsp. vanilla
½ tsp. baking soda
¼ tsp. salt

Preheat overn to 325. Combine all ingredients in a mixer, mix until well combined. Spread in a 8X8 pan. Bake for 20-25 minutes.

1 c. dairy free chocolate chips

When peanut butter bars are done, while they are still hot, sprinkle chocolate chips on top and spread to coat well.

Creamy Garlic Rosemary Dressing
This is for garlic lovers, it has a kick to it. YUM!!

1/2 c. apple cider vinegar
4 cloves garlic
1 Tb. stoneground mustard
4 dates
2/3 c. peeled chopped zucchini
1/4 c. cashews
1 1/2 tsp. rosemary
1 tsp. dried minced onion

blend until creamy.

Serving suggestions: Serve over green leaf lettuce, onion, broccoli, cauliflower, white cannelini beans

Easy Healthy Fajita Bean Dip
Absolutely delicious dip for veggies or spread for burritos!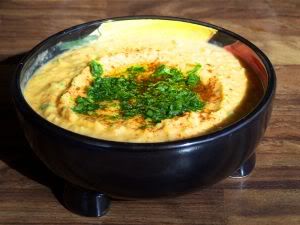 1 can low sodium garbanzo beans
1/2 c. cashews
1/3 c. sundried tomatoes
2 cloves garlic minced
1/2 lemon juiced
1/2 tsp. garlic powder
1 tsp. onion powder
1 Tb. nutritional yeast
1/2 tsp. cumin
2 tsp. chili powder
2/3 c. water
1/2 tsp. salt

process or blend until creamy.

Easy Healthy Cherry Peach Smoothie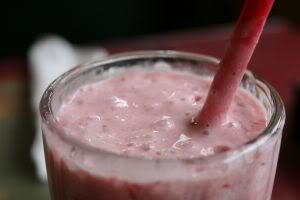 12 oz. water
2 bananas
1 c. frozen cherries
1 fresh peach
1 Tb. chia seeds
4 dates
2 c. spinach
1 Tb. lacuma powder
1/4 tsp. vanilla
1/4 tsp. stevia leaves

Blend until creamy.

Easy Healthy Tropical Buckwheat Cereal
This is my mom's favorite breakfast, it is truly delicious!
Sauce:

1 orange
1/4 c. pineapple juice
1/4 of a banana
1/4 tsp. vanilla

Blend until creamy.

Cereal:

1 c. buckwheat soaked overnight
3 Tb. goji berries
2 Tb. currants
1/2 c. pineapple chopped
1 banana sliced
1/4 tsp. cinnamon
1 Tb. coconut flakes
2 Tb. sunflower seeds

Mix all ingredients in a bowl and pour sauce over cereal.

New Recipes will be added regularly so please check back often
Healthy eating is critical to overall health and well being. These easy healthy recipes were designed to offer nutrient packed foods that are simple and easy to prepare. We need easy healthy recipes that can be prepared quickly.
I have searched recipe books trying to create healthy menu plans for my family, but I have become so frustrated that even lunch recipes took 50-60 minutes to prepare. I just don't have that kind of time to prepare meals.
There is a desperate need for easy healthy recipes that don't take hours to prepare but provide maximum nutrition. I will continue to add new recipes to this collection to give you an excellent resource of easy healthy and quick to prepare recipes.

Easy Healthy Recipes Resource
Have a favorite easy healthy recipe? Share it!
Do you have a great easy healthy recipe to share?
Contribute your favorite recipes and enter into daily prize drawings for recipe collections and other great prizes!