Low fat recipes tips and Tricks
Finding delicious low fat recipes for your favorite comfort foods may have resulted in dry, tasteless food, but now you can convert your own with our tips and tricks and add a few new recipes.
It is important to reduce the amount of refined oils and high saturated fat foods that we consume in our diet in order to improve our overall health. Low fat recipes and low fat diets have proven to be the healthiest way to eat, however, many individuals do not understand what low fat cooking actually is.
Most studies 'proving' no difference in low fat diets as opposed to higher fat diets were studying 'low fat' diets of up to 35% of calories from fat. That is NOT low fat and it is obvious that no benefit will be seen from 35% vs. 60% of calories from fat, both are too high. Studies actually looking at real low fat diets have proven dramatic health benefits. We'll look at the benefits later, on to the tips and tricks for low fat recipes.
It can be difficult to figure out how to reduce refined oils and other high fat foods in recipes to create delicious low fat recipes, and still come out with a delicious end result.
I have learned a lot of tricks to reducing or completely eliminating refined oils from foods without compromising taste. Low fat recipes can be delicious if you learn how to master low fat cooking.
Tips for baking healthy low fat cookie recipes

• Use whole wheat flour
• replace 1 c. oil with 1/2 c. maple syrup and 2 Tb. almond butter or
peanut butter and 2 Tb. applesauce then reduce dry sugar by 1/2.
• Replace 1 egg with 1/3 c. applesauce
These tips will give you a very low fat cookie that is still gooey on the inside without all the fat!
Tips for baking healthy low fat cake recipes:
• Replace at least 1/2 of the oil or fat in the recipe, you can replace all
of the fat using a combination of these suggestions.
• replace 1/2 of the fat with applesauce, you cannot replace all of the fat
with applesauce in most recipes without some change in taste and texture.
• Replace 1/2 fat with fruit baby food, you can use pear, apple or
banana in white cakes and prune for chocolate cakes.
• If you replace 1/2 the fat with one of these suggestions you can use 1
or 2 Tb. of coconut oil for the rest of the fat and the recipe
should turn out delicious.
• Replace 1/2 or all of the oil with the same amount of soymilk curdled
with 1-2 Tb. vinegar. This does not work with other non-dairy
milks. The vinegar also helps the cake rise.
• Use Sunsweet lighter bake as directed, it is a combination of apple,
prune and other fruit purees.
• Use 1/2 liquid sweetener like maple syrup and reduce the sugar in 1/2.
This replaces the moisture for the fat and adds sweetness.

Tips for Low fat meal recipes:

Sautee- I always use oil free vegetable broth for sauteeing anything. It works very well when used over high heat. You can add 1 tsp. of oil for some flavor if you like just make sure you use an oil that can be used at high heat otherwise the oil can oxidize. It creates deliciously flavored low fat recipes and you avoid oxidated oils that can lead to free radical damage.
Frying- I always bake anything that calls for frying, I have even made baked donuts. Baking is another key to master for low fat recipes. If my family wants a little of that flavor I will spray or wipe a pan with coconut oil and cook it in a pan, but do not use large amounts of oil.
Examples of foods I bake instead of fry.

homemade fries
donuts
fry bread
eggplant or sunburger parmigiana

Oil- Most soups, stews, casseroles etc... call for added oil, this can easily be left out. I sautee the onion and garlic for recipes in vegetable broth and leave out any oil called for in the recipe. This works for dinner meals but in baked goods you do have to replace the moisture. I on occasion will leave in 1 tsp. to 1 Tb. of oil for flavor or another aspect of the recipe but it should not equal more than 1/2 tsp. oil per serving in low fat recipes.
Cheese- Cows milk contains caso-morphines, addictive opiates that are meant to be in very low levels to stimulate the calf to nurse. In cheese these caso-morphines are concentrated by 10 times making cheese an extremely addictive food. It also contains a lot of calories, saturated fat, cholesterol, and allergenic substances as well as concentrated estrogens secreted naturally by the cow. It is best to severely limit this food. If you must use it, it should be 1 oz. or less per serving. Try different lower fat versions if you do use it. Cheese is nearly impossible to include in low fat recipes unless it remains less than 1 oz. per serving and used only at one meal per day.
Cream- When making soup that calls for cream, or any creamy casserole or dish I always use cashew milk. Cashews are amazing, low in saturated fat, contain no cholesterol and also contain fiber. I use 3/4 c. water with 1/4 c. cashews blended creamy for every cup of cream called for.
Another perk of cashew milk or cream is that cashew milk thickens when heated so it will become a thick cream when baked or heated in soup. It makes a delicious cream sauce for italian dishes, creamy potato soup, cheesy potatoes or other cream dishes. I have even used it for ice cream and creme brulee with amazing results.
Cashew cream can also be used in baked goods to make them moist without refined oil. It does need to be made a little thicker for baked goods so maybe 1/3 c. of cashews to 3/4 c.
Cashews do contain fat, however, they also contain a small amount of protein, carbohydrates, vitamins, minerals and fiber. They are whole foods and can be used in low fat recipes. Keep the amount of nuts to about 3 Tb. per serving for low fat recipes.
Eggs- 1 egg contains 5 grams of fat which equals 63% of calories from fat!!! 71% of your daily limit of cholesterol, and 10% saturated fat. They contain no fiber, very little vitamins and minerals and a high amount of sulfur containing amino acids which can lead to bone loss.
Replace eggs to create healthy low fat recipes with:

• 1 Tb. flaxmeal 2 Tb. water for each egg in baking. Mix and let it sit and it will gel up like egg white, add a little extra leavening like baking powder or baking soda.
• 1 Tb. arrowroot powder, 1/4 tsp. baking powder and 2 Tb. water for each egg. This is best in white baked goods like vanilla cakes. • 1/3 c. applesauce for each egg
• silken tofu for scramble, omlets etc... along with 2 Tb. nutritional yeast, 1/4 tsp. garlic powder, dash tumeric, and 1/4 tsp. salt for each egg. Use the arrowroot mixture as well for omlets.

Add vegetables- Instead of making dishes that focus on beef, pork, chicken, turkey and other foods that contain no fiber, antioxidants, very little vitamins and minerals add vegetables as the focus and make the meat a condiment in the dish. Vegetables are low calorie and add a lot of flavor to low fat recipes.
Lasagna- zucchini, grated carrots, sunburgers *in the simple recipe collection, fresh tomatoes and basil, vegetables are a key to low fat lasagna recipes.
Soups and stews- zucchini, carrot, potato, spinach, tomato, corn, beans
Burritos, tacos, mexican food- corn, zucchini, yellow squash, beans, rice, spinach, tomato, bell peppers, mushrooms, onion
Use a variety of fresh produce in your recipes, it lowers the fat content per serving, adds superior nutrition and reduces foods with known health risks.

Why should I eat a Low Fat Diet?
There are several organizations and individuals who claim that fat consumption in the U.S. has dropped and yet we still have an obesity problem so low fat diets are not the answer. The problem is they do not support this claim with any reference and in fact, the references they are using are flawed, as reported by the USDA below:
Relative Fat Consumption Continues to Decline; Total Fat Consumption Does Not

"Summarizing, fat consumption in both men and women decreased between 1965 and 1990. The percent of calories from fat continued to decrease between 1990 and 1995 even as the daily grams of fat intake remained steady or increased."
IS TOTAL FAT CONSUMPTION REALLY DECREASING?

Insights INSIGHT 5 A Publication of the USDA Center for Nutrition Policy and Promotion April 1998 CNPP 1120 20th Street, NW Suite 200, North Lobby Washington, DC 20036 202/418-2312 FAX 202/208-2321
"The explanation for this apparent paradox is that although daily fat consumption was increasing or remaining unchanged, the total caloric intake was increasing at a relatively faster pace (Figs. 2 and 3). For example, there was a 13 percent increase in fat consumption among men 19 to 50 years old between 1990 and 1995, but a 21 percent increase in total caloric intake over the same period. A higher number of calories consumed will reduce the calculated percentage of calories from fat even when there is no decrease in total fat consumption." Conclusion "Total fat consumption expressed as a percent of caloric intake has steadily decreased since 1965. However, in the past 5 years, the decrease in percent of calories from fat is a result of increased total caloric intake and not necessarily due to decreased fat consumption. The daily fat intake in grams has, in fact, increased in many cases, reversing the trend of Americans consuming less fat in their diet as was reported earlier." Anand, R.S., Basiotis, P., and Kennedy, E. 1997. Rise in amount of total fat and number of calories consumed by Americans. The FASEB Journal 11(3):A183. (Abstract #1064).
http://www.cnpp.usda.gov/Publications/NutritionInsights/insight5.pdf To summarize the findings of these articles, Americans have been increasing their calorie intake steadily since 1965 making it appear that we are consuming less fat as a percentage of calories, when in reality fat intake is actually increasing.
Excess calorie consumption and increased fat intake is causing an increase in American's waistlines. Because fats are so calorie dense, at 9 calories per gram vs. 4 calories per gram for carbohydrates and protein, fats are actually the first macronutrient that should be limited in a weight loss program. Low fat cooking is important, fat contains 9 calories per gram while carbohydrates and protein contain only 4 calories per gram. Fat consumption can easily lead to excess calorie consumption and subsequent weight gain.
Cataracts from Vegetable Oil
Dietary fat intake and early age-related lens opacities by Minyi Lu in the April 2005 issue of the American Journal of Clinical Nutrition found, "High intake of the 18-carbon polyunsaturated fatty acids linoleic acid and linolenic acid may increase the risk of age-related nuclear opacity."1 This study looked at 444 women (age 54 to 73 years) and compared their diets to discovery of cataracts. Among these women, 55.5% were found to have cataracts. In addition to vegetable fats in general, they found mayonnaise and creamy salad dressing – foods high in vegetable oils – to be associated with an increase in cataracts.
Vegetable oils are not innocent, they contain 100% fat, no fiber, no protein and very little nutrient content. They oxidize rapidly and cause subsequent free radical damage in the body. Low fat recipes and low fat diets are aimed at reducing this oxidative stress on the body.
Oxidative damage and free radical damage from diets high in vegetable oils and fats can also contribute to heart disease, cancer, macular degeneration and other serious illnesses.
Low fat recipes that are delicious, satisfying and easy to prepare are the key to helping you reduce fat intake and achieve an optimal weight along with optimal health. Hopefully these low fat recipes and tips and tricks for low fat cooking will help you on your journey.
You do not need to completely remove foods that contain fat from your diet, such as flax, nuts, or seeds, just remember that 1-2 oz. depending on your activity level and weight is optimal.
Low Fat Recipes
low fat Carrot Salsa Black Bean Soup recipe
2 cloves garlic minced
1/2 c. celery chopped
1/2 c. onion diced
1/3 c. carrots sliced
1/4 c. vegetable broth

sautee in vegetable broth until onion is translucent. Add:

1 c. water
3/4 c. carrot juice
1/2 Tb. dark miso
1 tsp. garlic powder
1 Tb. nutritional yeast
1/2 tsp. cumin
1 c. salsa
1 15oz. can black beans
1/2 Tb. chili powder
1/8 tsp. spice hunter 'The Zip' or chipotle chili powder
1/2 tsp. salt

Simmmer 15 minutes, then remove 1 c. veggies and beans and 1/2 c. of broth, pour into a blender and add:

1/4 c. cashews

blend until creamy, pour back into soup and serve warm.

Low fat, high fiber Cheese Sauce recipe

This is absolutely delicious!!
1 1/2 yukon gold potatoes [medium size]
1/2 c. carrots
1/2 onion

steam veggies in water until softened, drain water and put veggies in blender.

1/3 c. nutritional yeast
1/2 c. cashews
1 tsp. salt
1/4 tsp. garlic powder
1/4 c. water

Blend all ingredients in a blender until completely creamy.

Serving suggestions: steamed veggies, baked potatoes, cheese fondue, pour over casseroles, pizza, etc...

Low fat Broccoli and Sunburger Divan

1 c. broccoli
1 c. cauliflower
1/3 c. onion
2 carrots
2 sunburgers sliced, recipe below

Sauce:

1 c. water
1/3 c. cashews
1 tsp. garlic
1/2 tsp. poultry seasoning
1 1/2 Tb. nutritional yeast
1/4 tsp. salt
1 tsp. curry powder

blend creamy.

Tofu sour cream:

1 box mori nu silken tofu
1 1/2 Tb. lemon juice
1/2 tsp. salt

Blend creamy, combine sauce with sour cream.

Cheese topping:

1 potato
1/2 c. onion
1/2 c. carrots

steam until softened, pour in blender and add:

1/3 c. water
1/3 c. cashews
1/4 c. nutritional yeast
1 tsp. salt
1/2 tsp. garlic powder

blend until creamy. Pour over casserole and bake 375 for 25-35 minutes.

Low fat Veggie Sunburger Recipe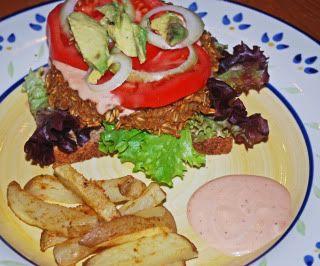 These sunburgers are extremely popular!! Everyone who has had them, loves them. We use them in everything! Put them in lasagne, stir fry, casseroles, etc... They are a staple food. They are also delicious with baked fries.
Makes about 20 sunburgers
6 c. water
1/2 Tb. parsley
1/2 tsp. olive oil
1 tsp. thyme
1 tsp. basil
1/2 tsp. marjoram
1/4 c. dried minced onion
1/2 tsp. garlic powder
1/2 c. nutritional yeast
2 tsp. light yellow miso
1/4 tsp. celery powder
1/3 c. tamari or low sodium soy sauce
1/2 c. sunflower seeds
6 c. oatmeal
Bring water and all seasonings to a boil, add sunflower seeds and oatmeal and stir until it thickens. Remove from heat. Preheat oven to 350. Form patties and place on baking sheets. Bake 15 minutes, flip and bake 15 minutes. Serve on a whole wheat bun and freeze the rest.
Low Fat Peach Blackberry Jam Bar Recipe

You can make these with the jam of your choice, they are delicious!

Cookie bar crust:

2/3 c. turbinado
1/3 c. maple syrup
1/3 c. applesauce
1 Tb. coconut oil
1 Tb. almond butter
2 Tb. arrowroot
2 Tb. flaxmeal
1/3 c. water
1 1/2 c. oats
1 1/4 c. whole wheat flour
1 tsp. salt
1 tsp. vanilla
3/4 tsp. baking soda
1 tsp. cinnamon

Preheat oven to 350. Combine arrowroot, flaxmeal and water, whisk and set aside. Combine turbinado, maple syrup, applesauce, coconut oil and almond butter and mix. Add remaining ingredients and mix until well combined. Press mixture into a 7X11 baking pan and set aside.
Jam Filling:

1 c. jam of your choice, I used peach blackberry
2 Tb. cornstarch
3 Tb. water
1/4 tsp. vanilla

If the jam you choose is somewhat runny use less water, if it is very stiff and solid use more water. Whisk all ingredients in a bowl and spread over the cookie bottom.
Crumb Topping:

2/3 c. turbinado
1 Tb. coconut oil
1/4 c. shredded unsweetened coconut
2 Tb. applesauce
1/4 c. brown rice syrup
3/4 c. oats
1/4 c. flour
1/2 Tb. almond butter
1/2 tsp. salt
1/2 tsp. vanilla
1/4 tsp. baking soda
1/2 tsp. cinnamon

Drop on the jam filling and press lightly, this will form a pattern of crumb topping with swirls of exposed jam filling.

Bake 350 for 40 minutes, cool before serving.

I hope you enjoy these low fat recipes and please check back often as new low fat recipes will be added frequently.


More Healthy Low Fat Recipes Delicious Low Fat meal recipes