Simple Healthy Recipes for Breakfast
Simple Healthy Recipes will continually be added to this page so keep checking back for more fabulous, delicious ideas for healthy eating!
Simple Healthy Recipe base for a Green Smoothie
It may seem odd to add greens to a fruit smoothie but spinach adds very little flavor but contributes a lot of nutrition! Children love this smoothie!
1 1/2 c. water
1 c. frozen blueberries
1 1/2 banana
2 c. spinach
1 tsp flaxmeal

Blend until creamy.
You can add any fruit you like to create your own simple healthy recipe in the morning. If you use low sugar fruits like peaches or berries you will need a couple dates or stevia to sweeten it up a bit.
Simple Healthy Breakfast Fruit and Buckwheat Bowl
This is a gluten free, quick, healthy breakfast with a crunch! Throw out the processed cereals and enjoy a bowl of fruit and buckwheat for breakfast. Delicious.
1/4 c. buckwheat
1/2 banana sliced
1/3 c. blueberries
1/2 apple sliced
1 Tb. currants
4 strawberries sliced
1/2 c. soymilk [hemp milk, oat, almond, cashew, or rice milk]
1/2 tsp. cinnamon
1/2 tsp. flaxmeal

Mix all ingredients in a bowl.

Simple Healthy Yams and Fruit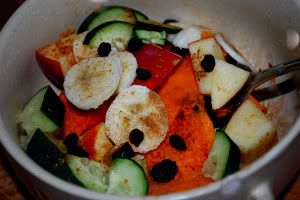 Yams are packed with nutrition and very satiating for breakfast. I keep a few baked yams in the fridge so they are quick to grab and go.
1/2 baked yam cubed
1/2 banana sliced
1/2 apple sliced
2 Tb. raisins or currants
1/2 tsp. cinnamon
1/2 c. soymilk [hemp, rice, oat, almond or your choice of plant milk]

Breakfast should be quick, simple and easy but it should also pack a powerful nutrition punch as well. Healthy eating does not have to be expensive or time consuming, it just takes some creativity.
Boxed cereals are not healthy, even those that claim to be whole grain. They are highly processed and a far cry from the whole grain they once were. In order to truly move toward a healthy diet you have to move away from the box and toward natural foods in their whole intact state.
Here are some suggestions for creating your own simple healthy recipes for breakfast: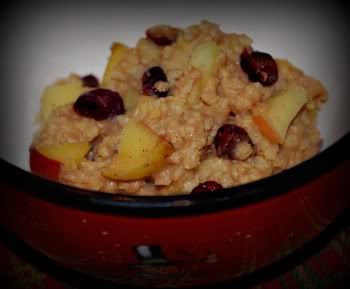 Millet
Quinoa
Steel cut oats
Old Fashioned oatmeal
Yam
Sweet potato
Buckwheat
Cracked wheat
Pearled Barley

Millet and quinoa cook up in about 15-20 minutes. Grains that take longer to cook can be cooked and stored in containers in the fridge for a quick simple and healthy breakfast all week.
Mix fruit with your grains for breakfast. Fruit is packed with antioxidants, vitamins and minerals and is excellent for quick energy in the morning.
Check out the fruit nutrition facts page for more information on fruit as a part of a healthy diet.
Simple Healthy Recipes for Lunch
Simple Healthy Tomato Cucumber Hummus sandwich recipe
Serves 1

2 slices toasted ezekiel bread or whole wheat bread
1-2 Tb. hummus
1/3 c. sliced cucumber
1/4 c. sprouts
2 green leaf lettuce leaves
2 slices tomato
2 slices avocado
dash salt

Basil Pesto Pasta
1 pkg of whole wheat spaghetti, angel hair, fettuccini or your favorite pasta cooked according to package directions.
Low Fat Basil Pesto
This is an AMAZING pesto, absolutely delicious.
2 1/3 c. basil
1 c. spinach
1 c. firm tofu
1/2 c. macadamia nuts or cashews or walnuts
5 cloves garlic
2 Tb. nutritional yeast
2 Tb. vegetable broth
1 tsp. salt

Place all pesto ingredients in food processor and process until finely ground. Pour over pasta and mix well.
Poppyseed Fruit Salad
Creamy Poppy seed Dressing

1 c. water
1/3 c. cashews
1/3 c. peeled chopped zucchini
1 Tb. flax oil
1/4 c. halawi or honey dates
1 clove garlic
1/3 c. apple cider vinegar
1/2 tsp. onion powder
2 Tb. chopped white onion
2 Tb. maple syrup
2 Tb. poppy seeds

Blend all ingredients, except poppy seeds, until creamy. Stir in poppy seeds.
Salad:
1 bag spinach
1/3 c. craisins
3/4 c. grapes halved
2 c. broccoli
1/2 red onion diced
1/4 c. chopped pecans
2 apples sliced
1 c. sliced strawberries
1 c. blueberries

Toss all salad ingredients in bowl and top with poppy seed dressing.
Creating simple healthy recipes for lunch is a snap! You can prepare a salad with some canned beans on top in a few minutes. Whiz up your own simple healthy salad dressing recipe without added oil and you have a meal.
The sky is the limit when it comes to creating simple healthy recipes for sandwiches. Any combination of hummus, vegetables and leafy greens and you have a delicious simple healthy lunch.
Simple Healthy Recipes for Dinner
Sloppy Joes
BBQ Sauce:
1 1/3 c. ketchup
1 c. tomato paste
1Tb. vegan worcestershire sauce
1/4 c. minced onion
2 Tb. molasses
2 tsp. garlic powder
2 tsp. poultry seasoning
1/2. c. carrot juice

1 3/4 c. lentils cooked
3/4 c. oats dry

food process lentils and oats until finely chopped, pour into a bowl and stir in BBQ sauce. Serve on whole wheat bun with salad.
Sauteed Vegetables & Tofu in Peanut Sauce
Serves 5
4 carrots sliced into sticks
1/2 c. onion diced
2 cloves garlic
1 c. broccoli
1/2 c. cauliflower
1 c. spinach
2/3 c. soyboy marinated tofu sliced
2/3 c. veg broth
1 Tb. olive oil

Steam carrots in 1/2 c. vegetable broth for about 10 minutes or until softened, add remaining ingredients and sautee until softened and bright in color. Do not over cook.
Peanut sauce:
1 c. soymilk
1/3 c. vegetable broth
3-4 Tb. peanut butter
1 1/2 Tb. cornstarch
1 Tb. tamari
1 t. garlic powder
1/2 tsp. onion powder
dash salt
dash red pepper flakes

Combine sauce ingredients in a bowl, whisk with the fork until well combined. Pour into vegetable mixture and heat until sauce thickens. Serve over brown rice or whole wheat pasta.
Thai Tempeh Peanut Stir-fry Salad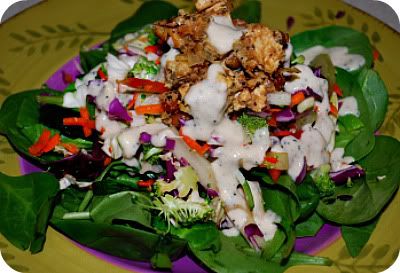 Absolutely amazing!!! This is a family favorite and definitely a crowd pleaser.
Poppy seed Dressing:
1 c. water
1/2 c. cashews
1/2 c. peeled zucchini
1 Tb. flax oil
1/4 c. dates
1 clove garlic
1/3 c. apple cider vinegar
1/2 tsp. onion powder
2 Tb. chopped onion
2 Tb. maple syrup
2 Tb. poppy seeds

Blend all ingredients except poppy seeds until creamy. Stir in poppy seeds and set aside until salad is assembled.

Salad:

1 6 oz. bag spinach
2 c. broccoli finely chopped
1 c. green cabbage finely sliced
1 c. red cabbage finely sliced
1 red bell pepper diced
1 cucumber julienned

Toss salad in a large bowl. Top with tempeh and poppy seed dressing.
Tempeh:

1/3 c. vegetable broth
1/3 c. chopped onion
1 clove garlic minced
1/2 tsp. garlic powder
1/2 tsp. poultry seasoning
1 tsp. olive oil

Sautee until onion turns translucent. Then add:
1 tsp. light miso
1 pkg. tempeh cubed
1/4 c. vegetable broth
2/3 c. poppy seed dressing
1 Tb. nutritional yeast
3/4 tsp. salt
dash black pepper

Sautee until sauce thickens and tempeh is slightly browned.Toss all salad ingredients together with dressing and serve.
Dinner shouldn't be a fat laden, heavy meal. Dinner is eaten at the end of the day when you are winding down and will not be burning as many calories. Enjoy simple, whole food, healthy dinner recipes and notice the increase in energy, health, vitality and of course amazing weight loss that will happen.
You can create your own simple healthy recipes by combining basic sauces and whole foods.
Lentils, variety of veggies and pasta saucegarbanzo beans, whole wheat pasta, veggies and no-oil italian dressingsweet potato, mango, hot pepper, cilantro, black beans, chili powder and brown rice
Short on time? Use the instant brown rice found in the grocery store that cooks up in 10 minutes!
Short on money? Walmart has bags of brown rice for .99!
There is no excuse for not eating healthy.
During the summer months my simple healthy recipes are generally:

Chilled pasta salads
Green salads
Fruit bowls
Chilled bean salads
and other light refreshing summer foods...

During the winter months soup and stews make up the simple healthy recipe collections. Soups that contain beans and vegetables are nutrient packed and simple to prepare because they require minimal cooking time.




Simple Healthy Recipe Protein Information